2conciliate Business Solutions AB (www.2c8.com) was founded in the city of Karlstad four years ago by JanE Larsson (picture) and Boo Lofberg. The company developed the 2c8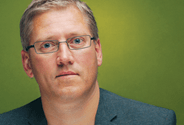 Modeling Tool that is used to create, visualize and publish process and organisation models, including descriptions of interested parties, requirements and decision makers, with complementing links to the rest of the operation and particular risks and opportunities.
In 2009 the company started getting requests from US customers through their business partners and they decided to open an office in America. Chicago was the first option but after having recruited Bertil Fredstrom as the President of 2conciliate Business Solutions Inc. In March of 2010 they decided on Austin, Texas as their new "home away from home".
The first month was spent organizing the Texas corporation and thanks to connections through The Swedish American Chamber of Commerce (SACC) in Texas that was not as difficult as it might sound. The Texas Incorporation process is also among the easiest in the US and the actual incorporation was done in less than four weeks at a cost of around $1,000.
A few additional details took a little longer like getting a Dunn and Bradstreet number and a Federal Tax id. In April the first sales calls were made and the first order came in May. US companies tend to pay their invoices a little slower than Swedish companies so the first payment did not arrive until July but with a careful build up of personnel and cost control the initial loan to the US Corporation from the mother company in Sweden lasted a long time.
2conciliate Business Solutions Inc. Is now an established entity in Texas and is slowly growing in other states. Customer orders are increasing both in size and frequency and the company has started to organize regularly scheduled education sessions for new customers as well as web based product demonstrations and interactive online presentations.
Some learning points to take home when starting a new business in the US when you are a Swedish company are:
Start small and grow slowly. Do not send several people over to the US or start by hiring a bunch of Americans the first thing
Make sure that your product is of high quality before you take the first step over the Atlantic. You only have one chance to make a first impression
Begin by digging where you stand, do not go to the US until you are well established in Sweden
2conciliate Business Solution and its 2c8 Modeling Tool is especially useful for consultants that, when describing an organization, need a tool that follows the workflow in a flexible way. It should be possible to describe different parts of an organization without losing the bigger picture. The ease of use in 2c8 Modeling Tool does bring any consultant up to speed quickly and is therefore worth the small initial investment needed.
2conciliate Business Solutions are still looking for additional resellers and consultants interested in either using modeling as a stand-alone tool for descriptions of existing organizations or in preparation for new development and/or installation and replacements of entire applications and processes.

If you are interested to know more about 2conciliate Business Solutions or the 2c8 Modeling Tool please do not hesitate to contact Bertil Fredstrom at bertil.fredstrom@2c8.com
For more information in Swedish read article about 2conciliate Business Solutions in Nya Wärmlands Tidning