Please click on the title of the event to expand more information
SACC-Houston's Annual Christmas Party, December 11th, 2014
On December 11, 2014 SACC houston held their annual christmas party at Søren Pedersens venue, he served a traditional Swedish julbord.
Chef Soren Pedersen is a Danish born chef and co-founder of the award winning restaurant Sorrel Urban Bistro in Houston. He has participated in the Fox morning show and his latest adventure is a television show titled "Currant Kitchen, where locals grow" which focus on his lifelong culinary philosophy of using locally grown vegetable and local farm raised products.
We had a raffle during the evening for the members, 2nd and 3rd place won different Swedish delicacies and 1st place won $500 in airline tickets.
Josefine Jäwert, SACC-Houston
Scandinavian Business Mixer on September 16th, 2014
On September 16th, SACC-Houston together with NACC and DACC set up an event for all of our members. The reason was to welcome them back from summer and to mingle in a Scandinavian atmosphere. SAS were there to promote their new flight between Houston and Stavanger and held an informative speech about it.
The event was held at the Norway House in Houston and it was crowded, people were having a great time. The food was served by the Danish chef Søren Pedersen and was much appreciated. Chef Pedersen had made seven different kind of smørrebrød which is a rye bread with different kind of toppings. The event had a great outcome and we are already in progress to plan this kind of event for next year.
Josefine Jäwert, SACC-Houston
The 11th Scandinavian Golf Tournament, February 2014
SACC-Houston Christmas Party, December 2013
The 10th Scandinavian Golf Tournament, February 2013
Beautiful weather and gusty winds met our 140 players when we celebrated our 10th Scandinavian Golf Tournament at Augusta Pines. The course was in great condition and offered the challenges you can expect from a tournament course.
Sweden brought home the trophy through the MCT Brattberg team with Colin Clarke, Bo Birgerud, Lars Samuelsson Bob Self. They now get to keep the trophy at their office until next year's competition.
Second place went to a team from REEL Group with Mel Koonce, Charles Tatum, Glen Shropshire and Moe Cherry. Third place went to DNB (Den Norske Bank) with David Lawrence, Stig Aarseth, Asulv Tveit and Erik Hammer.
Erik Kirkemo, Statoil won the longest drive competition.  Straightest drive went to Angie Smith, INTSOK and Closest to the pin went to Kevin Goode, Aker Solutions.
The tournament was generously sponsored by the Star Sponsor IKEA and the Platinum sponsors Statoil and DNB as well as a large number of gold and silver sponsors. Hole in One sponsor was MCT Brattberg where a "lucky" shot would have given the winner a brand new BMW.
The tournament was organized jointly with the Norwegian- Danish- and the Swedish Chambers of Commerce.
Our Augusta Pines Tournament does provide great excitement on a marvelous course, and for many of our guests from Scandinavia, it's the first outing of the year. This 10th anniversary was also fortunate with plenty of sunshine and good food.
If you plan to join us next year for the Scandinavian Golf Tournament, please mark your calendar for February 24, 2014. See you there!

SACC-Houston Holiday Party, December 2012
Thank you to Champion Fiberglass and owners Goran and Orpha Haag for sponsoring SACC-Houston's annual Christmas party in December 2012!

Bloomberg Advisor and Marsh Insurance Director speaks to SACC-Houston, 2012
At a joint luncheon with the Danish and Norwegian chambers, Bertil Olsson (pictured at center of table), Managing Director and Energy Practice Leader at Marsh USA Inc. provided interesting perspectives about risk management in the energy industry.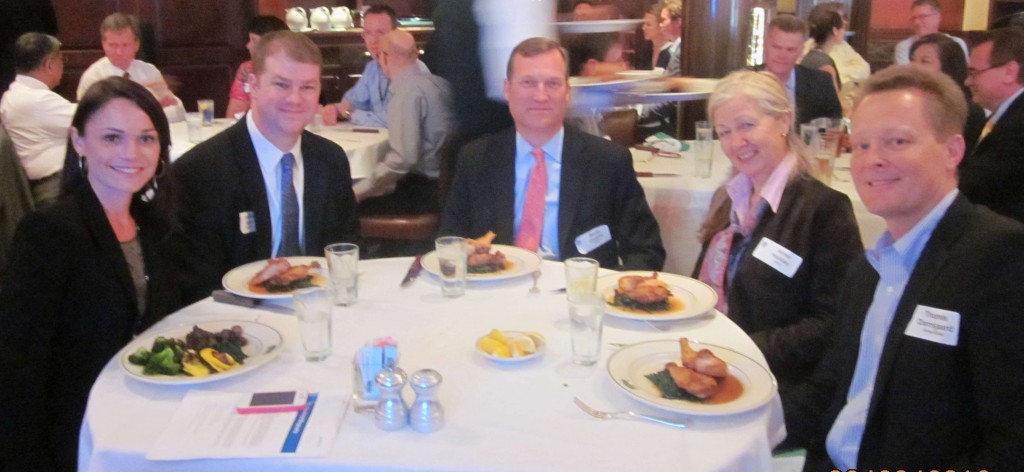 Mr. Olsson explained the financial implications for BP and Transocean caused by the BP oil spill in the Gulf as well as several other accidents in Canada, Australia and the North Sea.   He described the BP Gulf accident in detail and explained how large portions of the damages caused by accident would be difficult or impossible to insure.   In addition, Mr. Olsson addressed fracking for oil and gas recovery, a booming industry in Texas and other parts of the US and the many insurance issues raised by this new technology.
The 50+ attendants had the pleasure of listening to Mr. Olsson's with his 20 plus years of expertise and insight in risk management in the energy industry.
After hearing about his presentation to SACCTX, the Bloomberg Network asked Mr. Olsson to advise on the risks regarding fracking.  Congratulations to Bertil Olsson and thanks for speaking to our group in Houston.
The 9th Scandinavian Golf Tournament, February 2012
The Scandinavian Golf tournament at the Augusta Pines north of Houston has become a great tradition. This 9th edition probably took home the prize. The beautiful golf course was in great shape and the weather was fantastic. The tournament was organized jointly with the Norwegian American Chamber of Commerce and the newly formed the Danish American Chamber of Commerce joined in for the first time.
The tournament has grown every year and this year it was generously sponsored by the Star Sponsor IKEA and the Platinum sponsors Siemens Energy and Statoil as well as a large number of gold and silver sponsors.
Hole-in-One sponsor was MCT Brattberg, where the winner had a chance to bring home a BMW.
The golf itself turned out to be a tough competition between 26 teams. All teams included low handicap players.
The first place went to a team from REEL Group with Mel Koonce, Glen Shropshire, Charles Tatum and Danny Humphrey.  They now get to keep the trophy at their office until next year's competition.
Second place went to Colin Clarke, Lars Samuelsson, Kevin Blout and Nick Hartle from MCT Brattberg.
And, third place went to Poesy International with Louis Garza, Richard Gutierez, Romano Sampayo and Roberto Sanroman.
Other trophies were given to Zack Armstrong, Dixon & Co. for longest drive, Straightest drive to Jeff Tillman, Atlas Chemicals  and Closest to the pin went to Charles Tatum, Reel Group.
Our Augusta Pines Tournament does provide great excitement on a marvelous course, and for many of our guests from Scandinavia, it's the first outing of the year.  If you are interested in playing in the Scandinavian Golf Tournament, please mark your calendar for February 25, 2013. See you there!

Rehearsal of "Pas de Dans" by Dominic Walsh Dance Theater, January 2011
On January 21th, SACC-TX had an exclusive opportunity to visit a rehearsal of "Pas de Dans" by Dominic Walsh Dance Theater.
Dominic Walsh was for over a decade, principal dancer at Houston Ballet. He has received the prestigious Choo-San Goh award twice (2002 and 2007) and 2008 he was awarded the Princess Grace Award.
Dominic Walsh Dance Theater was launched in Houston by Walsh back in 2002.
Dominic Walsh Dance Theater is the only American company who has obtained the right to perform the work of the Swedish choreographer Mats Ek. Meaning that the premier of "Pas de Dans" at the Hobby Center for the Performing Arts on February 10 will be the first time for a work by Mats Ek to be performed in the US by a US dance company.
We were around 15 member of SACC-TX who very much enjoyed seeing the dancer practice to the sound of Swedish folk music. We were amazed by the small details of the moves the dancers paid attention to as they directed and commented on each other's performance.
We had opportunities to ask questions about the dance group and the upcoming performance. It was really interesting to get a chance to come closer to the world of a dancer.
After the rehearsal we all, included the dancers went to the Archway Gallery for a wine reception.
Marie Leander, SACC-TX

The 8th Scandinavian Golf Tournament, February 2011
This year we met again at the beautiful Augusta Pines golf course north of Houston. This was the 8th year for the Scandinavian Golf Tournament, organized jointly with the Norwegian American Chamber of Commerce, and we were fortunate with nice weather and a large group of golfers.
The Tournament was generously sponsored by the Star sponsor IKEA and the Platinum sponsors Chase, Wells Fargo and Statoil as well as many gold and silver sponsors.
Hole in One sponsor was MCT Brattberg where the winner had a chance to bring home a BMW.
Second place went to Eric Namtvedt, Leiv Lea, Torbjorn Forthun and Bent Skeie (a Norwegian team) and third place went to Chase bank with James Hudnall, Bryan Hulshof, Chris McFarland and Starnes Jason.
Other trophies were given to Michael Rush, Aker Solutions for longest drive, Straightest drive to John Sickman and Closest to the pin went to Jason Starnes, Chase Bank. Richard Condon's team won the pink ball contest.
All the trophies were awarded during a well deserved dinner after the battle out on the course.
Despite not having the weather of the Masters, our Augusta Tournament does provide great excitement on a marvelous course,
and for many of our guests from Scandinavia, it's the first outing for their golf clubs for the year. Like the Masters, it's something everyone can look forward to as the start of the golfing year.If you are interested in making the Scandinavian Golf Tournament your start of the year, please mark your calendar for March 26, 2012. See you there!
Astrid Marklund, SACC-Houston

Houston Ship Channel Boat Tour, May 2011
The Offshore Technology Conference (OTC) in Houston is by far the largest offshore event in the world. At the conference multibillion dollar contracts are signed. The Swedish Trade Council each year coordinates the participation of over a dozen Swedish exhibitors in addition to those who exhibit on their own, some of them already established with offices in Houston such as MCT Brattberg, Alimak etc.
SACC TX this year had the opportunity to arrange a boat tour of the heavily industrialized Houston Ship Channel, sponsored by the Port of Houston and by Advancial (Credit Union) who generously sponsored the food and drinks for the evening.
During the trip up and down the busy channel we saw harbors of many of the most recognized companies in the shipping business.
Twenty of our Houston members accepted the invitation to network with twenty-five Swedish exhibitors. We were positively surprised by the optimism and the growth potential expressed by our guests, several of them representing small to midsize and highly entrepreneurial companies with great ambitions to increase their export. Sweden's economy is doing extremely well and Swedish exporters to the offshore industry certainly make their contributions.
Thanks to the sponsors and Anders Olsson and Max Åhvall from the Swedish Trade Council.
Sören Marklund, SACC-Texas

Breakfast featuring Karin Olofsdotter, Deputy Chief of Mission at the Swedish Embassy in Washington D.C., March 2011
SACC-TX arranged a breakfast featuring Karin Olofsdotter, Deputy Chief of Mission from the Swedish Embassy in Washington D.C., during her recent visit to Houston on March 3rd. Several topics relating to business connections between Houston and Sweden were discussed and Karin Olofsdotter emphasised the importance of communicating concrete ideas to Washington, in order for the Embassy to be able to support Swedish business development in Houston.
Sixteen members representing different areas of interest in Sweden took the opportunity to have breakfast with Karin Olofsdotter.  The meeting was one of Karin Olofsdotter's many encounters during her tightly scheduled visit to Houston. She also met with Swedish companies such as Stena Bulk; she visited Rice University and the Medical Centre as well as NASA and the Houston Rodeo.
Karin Olofsdotter started the meeting talking about changes in Sweden's consular presence around the world. With consulates closing down in the US, she and other representatives from the Swedish Embassy will have to make more efforts to travel around the country. Decisions have been made to focus on five areas outside Washington with the highest presence of Swedes and Swedish companies – trying to grasp the whole country at the same time would be impossible.   Although Houston is not one of the five areas, there is still significant interest by the Embassy to help relations between Texas and Sweden.
The discussions continued on how Houston can attract more Swedish companies to set up business here and how the image of Texas can be improved in Sweden. Swedish attendants said Texas is too often described in a negative way in Sweden, and many Swedes refers to weapons or Dallas when talking about Texas.
In long term perspective, Karin Olofsdotter suggested increasing the number of exchange students from Sweden is a good way of creating relations. And, of course, increasing business contacts, primarily by looking at areas interconnected. She said all ideas are welcome.
– Let's start with connecting better. Chose one or two sectors you want to promote, such as health IT. All ideas are worth trying, but it's difficult for us at the Embassy to come up with them. We need your help, says Karin Olofsdotter.
The SACC-TX members who attended pointed out the reasons why Houston is unique; it is a young city where the diversity has resulted in a good understanding between groups. The port, the proximity to Central America, the commercial development and the fact that it's so easy to do business here are other reasons that should attract Swedish companies looking to establish in America.
Karin Olofsdotter also said it is time to promote the modern picture of Sweden, the country's good economy and values, along with leading development in areas such as design and health IT innovations. Using exhibitions from the House of Sweden in Washington could be one way to increase Houston's interest in Sweden.
– The Stieg Larsson books have made a fantastic difference, people are so curios about Sweden, says Karin Olofsdotter.
Beatrice Lind Karlsson

Business Lunch featuring the Mayor of Houston; Annise Parker, February 2011
On February 8th, 2011, members of SACC-TX had the special opportunity to attend a business lunch featuring the Mayor of Houston, Annise Parker, at the Four Seasons Hotel downtown.
The topic of discussion – "Houston:  A Global City in the Years Ahead." Mayor Parker highlighted the city's efforts and projects to promote Houston as an international destination for foreign investment.
Key efforts include Infrastructure projects and increasing direct flights around the world to continue to attract business to this market.   The Mayor mentioned the ReBuild Houston Imitative to help build infrastructure on a pay as you go program in an effort, on the city's part, to be debt free.  The Houston Airport system headed by Mario Diaz is working on direct flights to business destinations in China and direct flights to Latin America, among other locations. Expanding the light rail system and the new Dynamo stadium are other key projects taking place in the city.
SACCTX members had an opportunity to mix and mingle with over 100 members from various international chambers that co-sponsored the event such as Italian-American Chamber of Commerce , the French-American Chamber of Commerce, the British American Business Council, Bilateral US-Arab Chamber, The Turkish Business Association, the Indo-American Chamber of Commerce of Greater Houston, among others.
Sarah Sweet, SACC-TX
SACC-Texas Holiday Party, December 2010
In December, sixty SACC-TX members gathered again at Richard Condon's beautiful Houston home. The event was sponsored by Goran and Orpha Haag, owners of Champion Fiberglass.
We were served traditional Swedish food, with glögg from Tehuacana Creek Vineyards and Winery in Waco, another successful Swedish venture on Texas soil.
Thanks to our host and sponsor for their generous support of the holiday party!

Business Luncheon featuring Jarl Dahlfors, President & CEO of Loomis US, September 2010
"Cash is King"
Members of the Houston Chapter had a special opportunity to listen and ask questions at a luncheon featuring the President & CEO of Loomis US, Jarl Dalhfors. Mr. Dahlfors talked about the innovative way that the Loomis SafePoint Safe (a smart safe connected to the customer, the bank and Loomis) is changing cash management for businesses. Mr. Dahlfors who is originally from Stockholm, Sweden inspired everyone with his presentation and hands on approach to business.
In Loomis' world, cash is king.  With history dating back 150 years to the California Gold Rush, Loomis has grown into a multi-billion dollar publicly traded international leader in the cash handling services with operations in over 13 countries in North America and Western Europe.
The Loomis strategy is to provide secure and efficient cash solutions to customers so that they can reduce the total cost of cash. "Banks today still handle a lot of cash which can be costly.  Loomis is equipped with the security and technology to help its clients reduce the costs associated with handling cash. In Europe, banks do not touch cash. All cash is handled through ATMs," said Mr. Dahlfors.
The company's goal is to remove banks from the cash handling process and deal directly with the retailer. Loomis can provide retail clients with a service called the SafePoint safe (or reverse ATM), a revolutionary way for retailers to handle cash without having the risk of sending an employee to a local branch to make daily deposits. The reverse ATM accepts all cash and check deposits on site and transmits the data to the retailer's bank for "real time" reporting. The SafePoint safe can also detect fake checks; an added bonus to avoid check fraud. The retailer can schedule a pickup with Loomis at a date and time that's convenient. Retailers such as MacDonald's, Applebee's, Valero, CVS and others, benefit from this type of technology and cash management.
Although more payments are made electronically in the U.S.
and Europe, cash in circulation continues to grow especially in developing countries. In Eastern European markets, cash in circulation has grown over 40% in the past couple years in countries like Romania. This represents considerable opportunity for Loomis to expand its footprint to other parts of the globe.
Loomis has operations in 13 countries including US, Sweden, Norway, Finland, Denmark, UK, France, Austria, Slovenia,
Slovakia, Switzerland, Spain and Portugal.  An extensive international presence is an important asset, contributing a considerable amount of collective expertise in cash handling. Loomis US has 160 branches and over 7,700 employees. Loomis US generated over Msek 4,000 (US $570 million) in sales during 2009 and is close to achieving an 8% operating target.
Mr. Jarlfors began his career in 2007 as the CFO of Loomis AB, parent company to Loomis US.  He spent the first few years unraveling the Loomis cash management issues in the UK and improving the financial organization of the company in preparation for a public listing. He led the company through the list process and on December 9, 2008, Loomis AB was listed on the Nasdaq OMX in Stockholm. He brings to Loomis over 20 years of international management experience in a broad range of service industries. Currently, he resides in Houston, Texas with his wife, Clarissa, and his two young children.
Sarah Sweet, SACC-TX

Annual Meeting and Farewell Dinner for astronaut Christer Fuglesang, March 2010
SACC-TX Annual Holiday Party, December 2008
Thursday, December 11, 2008
At the Charming Home of Mr. Richard Condon
Catered by: Chef Magnus Hansson
Many Thanks to our Sponsor: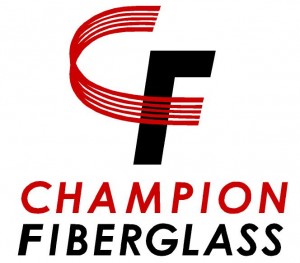 NASA Visit, November 2008
SACC-TX in Houston…
Visits Johnson Space Center, NASA
November 12, 2008
Tour by: Dr. Christer Fuglesang, ESA Astronaut, NASA
Guest of Honor:  His Excellency, Ambassador Jonas Hafstrom

SACC-Texas Celebrates 25 years, November 2008
SACC-Texas Celebrates 25 years in the town of its origination
Fabulous HOUSTON
November 11, 2008
Co-Chairs: Astrid Marklund and Marlene McLane
Photographer: Christopher Westerlund
Underwritten by: nanoTox and Stena Bulk
What an incredible moment in time!
SACC-TX Celebrates 25 years in Houston at the Petroleum Club on November 11, 2008.
It was all we could hope for and more. With attendants exceeding 100, we celebrated in style.
We opened up our celebration with a moment of silence in respect for Veterans Day and all Veterans that have served the U.S. military.
Guests mingled and networked; discussing the history of SACC TX and current exchange of commerce.
Networking is so important in SACC-TX. Many discussions were held; new exchange of services were developed.
Dignitaries from neighboring countries; such as Lasse Seim, Consul General, Norway attended to congratulate SACC TX in Houston for such a landmark.
Excellent service in high style was delivered by the highly estemeed Petroleum Club of Houston.
Our very own Pride of Houston, Honorary Consul General of Sweden, Jan Dryselius was officially dubbed  by His Excellency, Ambassador Jonas Hafstrom with his new title.
Council Member Mike Sullivan welcomes his Excellency Jonas Hafstrom with a honorary Houstonian Proclamation, executed by Mayor Bill White.
Our very appreciated SACC members are there to support and enjoy a well deserved celebration of hard work, persistence and excellency in exchange of commerce and business activities.
Exchange of conversation; business ideas, how to bring more commerce to Houston and how to enable Sweden to benefit from the activities and strengths in Houston.
Our friends from the Western European Chambers congratulated us – For instance, the German American Chamber of Commerce meeting Astronaut Christer Fuglesang and receiving an update on the Swedish austronatical contributals at NASA.
SACC-TX in Houston presents special gifts,  cufflinks and a pendant created for His Excellency, Jonas Hafstrom and his wife Eva Hafstrom. Created by Max Lang, commissioned by President George Bush.
Urban Lundberg, Chairman Elect, SACC-USA delivers extraordinary letters of appreciation to past Presidents of SACC-TX for dedicated leadership, recognizing us as a vibrant chamber and playing an important role in SACC-USA.
In support of SACC-USA, our umbrella organization, we ensured special time for presentation of the House of Sweden.
A final farewell to an unbelievably successful event.
Special connections were made and many plans had it's beginning in this very dining room. Plans to grow in our mission; strengthen commerce – ultimately creating opportunities  and a competitive edge for Swedish & U.S. Companies.