Please click on the title of the event to expand more information
Female Investor & Entrepreneurship Event, April 2016
On an early Tuesday morning in April Capital Factory was filled with people coming to listen to inspiring speakers and witness a pitch competition. They were all there for a Female Investor & Entrepreneurship event which is the first of its kind organized by SACC-Austin.
While starting their day with breakfast from our sponsors IKEA, they listened while our president, Henrik Johansson, opened the event and shared the statistic that even though the U.S is no. 1 country on the Global Entrepreneurship and Development Index, only 13% of start-ups have women on the executive teams.
Dr. Ann-Christine Langselius from Miraculum Inc and Linda Bjork from Bjork Business in New York inspired us all by their pep talks and gave tools for how to move forward with your business while not stressing yourself out.
We heard the two founders of True Wealth Innovations talk about their fund and how they invest in female entrepreneurs. Women Investing in Women's founder spoke also to this topic and how women can enable themselves and their peers through strong networks.
Four companies got the opportunity to pitch their ideas in front of a jury and the audience. After answering some tough questions, Leah Lopez who runs Better Bites Bakery convinced the jury and won. Everyone left feeling inspired about her mission to create sweets and cakes that are gluten, dairy and egg free but still taste good.
After ending the morning with some more knäckebröd from IKEA and cupcakes from Better Bites Bakery, people left feeling inspired and motivated to take on another work day.
Swedish Bootcamp at SXSW 2014
Thanks to everyone that joined SACC-Austin at the Swedish Boot Camp during SXSW!
The event during SXSW was a new version of the well attended music & business matchmaking-party that SACC-Austin has hosted on their roof terrace on 6th St, for several years. This year, the event was extended to three days, and co-hosted by other Swedish organizations, such as the Embassy of Sweden in the U.S., the Swedish Institute, Media Evolution, and Luleå Business Region.
Among the attendees were representatives from Swedish companies, as well as other SXSW participants with an interest in the Swedish culture. The goal of the event was to help the attendees to find new contacts and business opportunities, and of course to have a good time while doing it.
"One of the highlights from this year's event was the roundtable discussion about expanding your business to Sweden or the U.S. It's also a great way to meet a lot of talented Swedes, from different industries, that came to Austin for the festival", says Henrik Johansson, Vice President of SACC-Austin. He continues, "And of course all the great music – we had six different Swedish bands this year, and also a few American and Danish ones."
The program contained everything from live music and food to roundtable discussions and business matchmaking. New for this year was the "Austin Spotlight" day event, with lectures and discussions covering what Nordic regions can learn from the success and challenges of Austin. Among the speakers were the Swedish Ambassador to the U.S., HE Björn Lyrvall, and Pulitzer Prize finalist Sam Gwynne.
"To be seen in an environment like this, in the U.S., is a very positive thing for Swedish companies. This is a great way to increase the cooperation between the two countries", says Therese Linde, President at the Swedish-American Chamber of Commerce in the USA.
"This years' event was an even bigger success than before, with two nights of legendary rooftop parties and one at the bar Threadgill's South. We also had an exhibition booth in Austin Convention Center, where we promoted Sweden and Swedish companies", says Henrik.
So, Henrik, what parts of the event do you believe the attendees appreciated the most?
"Well, people have told me that they learned a lot from the other attendees, since Swedes are not the only ones coming to Austin – the whole world is here! They also learned a lot about what makes Austin unique and why it matters to Sweden. And most importantly – how to survive with less sleep than ever before!"
Lisa Goransson, SACC-Austin


Swedish Interactive House in Austin during SXSW 2013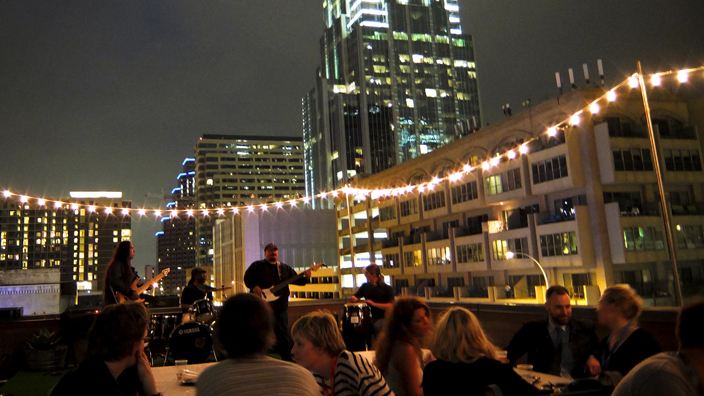 Saturday, March 9th marked this year's Swedish Interactive House hosted by the SACC-TX Austin branch. The event hosted not only Swedes who were in town for SXSW, but also some prominent local figures from Austin, including venture capitalists Mike Dodd and Chris Eckerman, Ben Ramirez from the City of Austin, Bijoy Goswami of ATX Equation, Morgan Flager from Silverton Partners, and many more. We even had some Swedes come in from both coasts, Gabriella Augustsson from the Swedish Embassy in Washington, as well as the president from the SACC Los Angeles branch. Two captivating round table discussions were held throughout the day, expanding off topics of startups and venture capitals and the relationship between Austin and Sweden in the past, present, and future. Being in the epicenter of all the SXSW festivities, live music and delicious food was provided on our patio overlooking lively 6th street in the heart of downtown. There was lots of discussion over fika and punsch between creative innovators, entrepreneurs, and everything in between. The event was a huge success with over 150 attendees mingling and networking until well after the expected ending time.
Read more about the event in the Swedish news: http://www.sydsvenskan.se/ekonomi/svenskfest-i-austin/ or visit our SxSweden website for more info about the event: www.sxsweden.com.
Wesley Strobel, SACC-Austin

The Swedish Invasion Rocked SXSW Once Again 2011
On March 17th it was once again time for the Swedish invasion of Austin and SXSW hosted by Export Music Sweden and The Swedish-American Chamber of Commerce in Texas. With St. Patrick's Day, the 25th anniversary of SXSW and the Swedish rooftop party all coinciding on the very same day you know there will be a party. Add 400 people on the guest list and perfect weather conditions to this and you know Sweden rocked SXSW once again.
20 Swedish bands had arrived in Austin to play at different venues throughout the week. Five of those bands got the chance to play at the Swedish rooftop party on the patio of Boundless Network's office in the heart of downtown Austin. The demand for tickets to the party was higher than ever resulting in the party being sold out days before the actual event. To keep the party under control, our own Texan "Ranger Bob" was guarding the doors to let no strangers in from the very crowded 6th street.
Once inside people were served delicious Mexican food and drinks mixed by our fantastic bartenders. After some time of mingling with the crowd the real show was about to begin. First out was a band from Gothenburg called the Pacific!. They were later followed by Hanna Turi from Stockholm, The Deer Tracks from Gävle, Friska Viljor from Värnamo and finally Intohimo from Jönköping. People were enjoying the rhythms and danced all night long as there was something for everyone, from smooth piano to screaming rock. When the bands were done and the music had ended, it didn't mean that the party was over. Lots of people decided to stay late as they really didn't want to go home from a party with such great atmosphere that in some way makes Austin and SXSW so unique.
When the party finally was over it seemed like the hard work to live up to last year's party really had paid off. But it wouldn't have been possible without our great sponsors Chuck Grigson Law Offices; Boundless Network; Maxwell, Locke & Ritter; DLA Piper, Stockholm Krystal Vodka; X5 Music Group, Bilda, Peace & Love. We would also like to thank our amazing artists, and wonderful guests that all helped making this a party to remember until we will be back again for SXSW 2012.
Until then…

Rasmus Wendt, SACC-Austin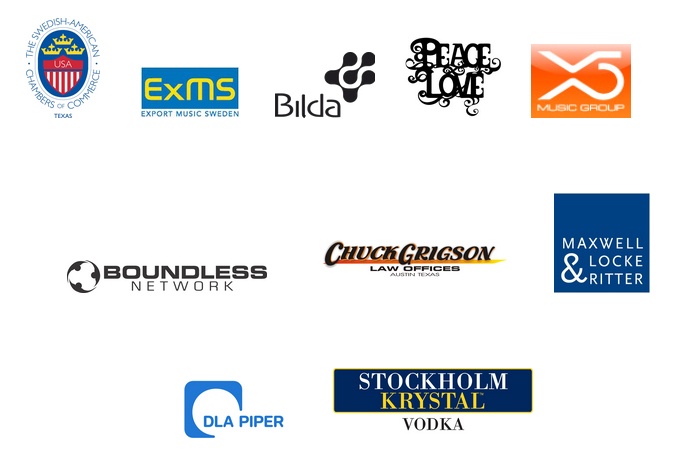 Hype & Reality in the Clean Tech Industry, 2010
On October 21, 2010, the Swedish-American Chamber of Commerce in Austin hosted another event for its members and business network. This time the topic was clean tech and included a panel discussion at the prominent Headliner's Club in Austin. The participants also got to enjoy one of the best views in town from the 21st floor of the Chase building.
The event started off with hors d'oeuvres and drinks for the guests who had the chance to mingle and connect with people from different companies in Texas. It was a good turnout as a lot of non-members joined from several clean tech companies around Texas.  Communications Director Matt Curtis from Austin Mayor Leffingwell's office also stopped by. He explained how the city government is engaged and encourages the continued development of the Austin clean tech industry. On a national level Austin is known for being far ahead of other regions, and is a great place to hold a clean tech event.
Sweden is one of the leading countries in the world within the field of clean tech and cooperation between Swedish and US interest has recently accelerated. There is also a strong ambition within SACC Texas to support clean tech cooperation and investments between Texas and Sweden. The event provided good evidence for this ambition as well as the participation by well known industry experts from both the US and Sweden.
Other participants in the Swedish delegation from DC were Andreas Larsson, analyst at the Swedish Agency for Growth Policy Analysis, and Kamilla Khron-Rådberg, head of the office of Science and Innovation at the Swedish Embassy.
Henrik Johansson, VP of SACC Texas in Austin moderated the discussion which touched on some very interesting issues related to "what is reality and what is hype when it comes to clean tech." The enthusiastic audience challenged the panel with a range of tricky questions. It will be interesting to follow the development of clean tech solutions in Texas and an increased interaction between Sweden and Texas in this important area.
Stay tuned on Swedish Clean Tech in Texas!
Rasmus Wendt, SACC-Austin
Midsummer Festivities at IKEA Round Rock, 2010
IKEA in Round Rock arranged their first annual Midsummer celebration in the store on Friday June 18th, 2010.
Being the first year IKEA in Round Rock arranged it turned out to be a success, The restaurant at IKEA was filled with participants who listened to the music and enjoyed the food.
The dancing around the maypole was led by members of SWEA Austin (Swedish Women's Educational Association). When you heard the songs "Små grodorna" (The little frogs) and "Vi äro musikanter" (We are musicians) it felt like you were back in Sweden.
The festivities included all the components of a traditional Swedish midsummer celebration – a midsummer pole, live traditional Swedish folk music, dancing around the maypole, and a buffet of delicious Swedish food.
Hakan Thyr, SACC-Austin

SXSW Happy Hour 2010
Austin is rightfully named "The Live Music Capital of the World". Every day of the year you can listen to live music at many of the large and small music venues throughout town. Two weeks every year it is no way you can avoid listening to music if you are close to downtown: during the 3-day Austin City Limits Music Festival in October when over 100 bands turn Zilker Park into a buzzing music scene with more than 65,000 visitors every day, and in March during the SXSW (South by Southwest) music, film and interactive festival when 1400 performers play in more than 80 venues, and transform the entire downtown into a 4-day around the clock music event.
Both events draw visitors from all over the world, and bring hundreds of millions of dollars into the Austin economy. Music is not only culture in Austin, it is big business!
"The British Invasion" crashed and burned with Beatles in the mid-60's. "The Swedish Invasion" of the American music life is still going strong 30 years after ABBA established the bridge head in the mid-70's. This year 18 Swedish bands performed at SXSW, an impressive number.
For the 3rd consecutive year SACC Austin arranged a SXSW music party in cooperation with Export Music Sweden. The event has grown year by year, and this year more than 300 guests showed up to listen to an unprecedented line-up of top-notch Swedish artists.
The party was hosted by Boundless Network, and the founder of the company Henrik Johansson, at their office in downtown Austin. Anders Nilsson (former Vice President of SACC Central Texas) and Anders Hjelmtorp (CEO of Export Music Sweden) managed the artist line-up.
First out on stage was Anton Björkenvall. Anton comes from Kiruna, a town above the Arctic Circle in Northern Sweden, and Anton and the band had taken the opportunity to warm up in the sunny Austin a week before the start of SXSW. After the music festival they planned a old-fashioned American road-trip to Louisiana.
Next was Jonna Lee, a singer-songwriter with a beautiful voice. She had just been reunited with her guitar, that had taken a trip to Amsterdam all by itself and magically showed up in time for the performance. Jonna was heading back to Sweden after SXSW to work on her next album.
Sofia Talvik performed at the SACC SXSW Music event in 2009, and she was back by popular demand this year. Sofia made Austin and SXSW the final stop of a busy US tour, starting off in Honolulu Hawaii, through Seattle, Los Angeles, and San Diego. Sofia is known to be a hard working artist, and she had a string of gigs lined up at SXSW, one together with Suzanne Vega.
Movits! changed the pace when they entered the staged and started off with their combination of swing, jazz, and hip hop. The crowd was jumping up and down.
Miss Li topped off the event. Someone has characterized her music style as "a wild mix of circus-cabare'-balkan-music hall-gypsy pop", and it really struck a chord with the Austin audience. Miss Li was heading up to Washington D.C (House of Sweden) and New York.
"The Swedish Invasion" of the American music scene continues! SACC-Austin wants to thank all the artists, our sponsors, and our guests for a wonderful party.
We hope to see all y'all again next year!
Hakan Thyr, SACC-Austin

Sweden hits Austin: Swedish Band Happy Hour at SXSW 2010
There is never a shortage of international acts at the SXSW Music Festival; this year featured many bands from all over the world, including China's P.K 14, the Czech Republic's Please the Trees, and plenty of acts from the United Kingdom.
But what about Sweden? While associated mostly with ABBA and death metal in more mainstream circles, Sweden is home to quite a few bands that have hit it big in the US, providing the world with a plentiful supply of pop music in the vein of Peter Bjorn & John, Miike Snow (who played this year's festival), and the increasingly popular Shout Out Louds. In fact, Sweden is the third largest exporter of music in the world after the United States and United Kingdom.
For those who are already big fans of Swedish music, this year's SXSW lineup did not disappoint; there were a least a dozen Swedish bands playing Austin venues. But the Swedish-American Chamber of Commerce and Boundless Network put on a show that both devoted fans and newcomers to Swedish music could enjoy: a show featuring five different Swedish acts for one price in one spot. The SXSW Swedish Music Happy Hour took place on the second night of the festival, on a coverless balcony at the Boundless Network office, perfectly situated overlooking 6th street. And the weather was perfect: a clear, cool 70 degrees, which was a nice change for any bands flying in from Sweden.
The show kicked off with Anton Björkenvall and Jonna Lee, whose performances were somewhat drowned out by an eager crowd of talkative Swedes and Austinites excitedly taking advantage of free food and drink.
Gothenburg's Sofia Talvik was able to get the crowd's attention for her set, which included songs that were slow enough to sway to as the sun went down over the Austin skyline but upbeat enough to get the live music mood going. Talvik sang in English but with enough of a charming Swedish accent that the Americans present still felt like they were experiencing some Swedish culture. She spoke in between songs about the weather in Orlando, about which she wrote a song that she performed to the joy of some Florida natives who were perched next to the stage.
Sofia had a sort of retro cowgirl vibe going on, donning cowboy boots on her feet and a 20s style floral netting in her hair. She has a beautiful and pure, almost haunting, singing voice, and a sweet demeanor that made her a hit with the crowd.
As it got dark and 8 o'clock rolled around, it was time for Movits!, Sweden's emerging hip-hop/swing band, who made their debut in the US as guests on the Colbert Show in July of last year. There were one or two skeptical audience members who weren't quite sure what to expect, but the band, who hails from Luleå, put on a show that rocked the tiny balcony and got both Swedes and Americans moving. Frontman Johan Rensfeldt provided lots of lively banter in between songs and explained that hip hop may have been born in the Bronx, but the Bronx was most certainly born in Sweden (it was written on the bands' shirts in case anyone should forget). And if Movits' performance Thursday night is any indication, it's got to be true. They put on an incredible show, Rensfeldt spitting out raps in Swedish at lightning speed and Jocke Nilsson keeping up on the saxophone. Rensfeldt's brother Anders was on the turntables and occasionally joined his brother on the mic. All three band members were full of energy, dancing with boundless enthusiasm. They certainly got the crowd on their feet; young college girls and middle-aged men alike were getting down to Movits' music, which combines swing, jazz, and hip hop with a refreshing Swedish twist.
After Movits' finished up and exited the stage, the crowd demanded an encore and got one straight away. There was one more band set to play that night, but it was difficult to see how anyone would be able to follow Movits' energetic performance. Luckily the next act didn't have any problems getting people to stick around and experience some more of what Sweden's music scene has to offer. Miss Li from Borlänge was described by an audience member as a pack of dynamite, and she certainly lived up to it. She kicked things off with a lively pounding on the piano as her band members backed her up on the standup bass and saxophone. Miss Li's voice is rich and soulful and packs quite a punch. As soon as you thought she couldn't get louder, a bolt of energy would hit her and she'd roar her way through the next song, hitting the piano keys with reckless abandon. Miss Li followed an amazing act but definitely held her own, giving the Swedes in the audience another reason to feel very proud that night.
The night wrapped up with a short and simple Swedish drinking song enjoyed by Swedish natives and Austinites alike. It was a great night for Swedish music and one that's sure to be remembered by both old and new fans of our chilly northern peninsula.
Hannah Miller, SACC-Austin

SXSW Happy Hour 2009
Big thanks to Henrik Johansson and colleagues at Boundless Network for sponsoring the event at their office patio on 6th Street in Austin.
Theresa Andersson: A truly unique musical experience packaged with energy, mystique and mind boggling talent.
Sofia Talvik performed. Sofia's press release from March 24th:
Sofia did a splendid job at SXSW, knocked out the audience at no less than 6 showcases and started a collaboration with American label Worldsound.
– It's a collaboration that suits the way I work, says Sofia, we have a partner deal so I won't be kicking off my shoes and wait for anyone else to take charge. My goal has always been to carry a strong business and be able to make my own choices. With Worldsound I have finally found a US label that is on the same page as me.
Worldsound describes Sofia as "The best Swedish discovery since Ikea".
Worldsound will represent Sofia and Makaki Music worldwide, outside of Sweden, starting in March 2009.

SACC-TX 25th Anniversary Dinner in Austin 2008
November 9, 2008 at the Driskill Hotel
Thank you all for attending this memorable dinner event at the Driskill hotel. A big thank you is also extended to our sponsors Peel & Sons, Patman Cattle Company, IKEA in Rond Rock and Texas Sun & Shade for making this event a success.

Visit from the Swedish Embassy 2008
Magnus Harviden (Counseler, Science and Technology) from the Swedish Ambassy in Washington, and Karin Hovlin (Technical Attache) from the Swedish General Consulate in Los Angeles visited Austin on April 24 and April 25. The purpose of the visit was to get input for a study on current trends on innovation practices with a focus on the IT-sector. To learn more about key success factors, trends and strategies that may be of interest in the development of future Swedish policy initiatives.
They had a jam packed agenda put together by SACC Austin, and they met with Deputy Secretary of State Coby Shorter, representatives from the Austin Chamber of Commerce, professors from the University of Texas, and leaders from IT companies Dell and IBM.
On the evening of April 24 SACC Austin hosted a dinner at Threadgills in downtown Austin where Karin and Magnus gave a well received presentation on the theme "Innovation to Drive Global Competitiveness" to a capacity crowd of 30 people.
Hakan Thyr, SACC-Austin