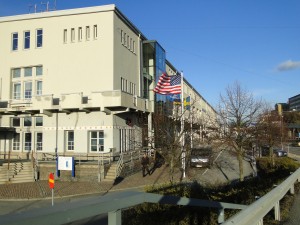 On March 27th, the Swedish-American Chambers of Commerce USA in collaboration with organizations such as Volvo, the city of Gothenburg, the American Chamber of Commerce in Sweden, and Connect Väst, brought the U.S. market to Gothenburg through one-day event Amerikadagen.
Amerikadagen was organized as an opportunity for Swedish professionals to learn about business establishment on the American market. It was also an opportunity for American stakeholders to promote the U.S. to Swedes. Participants included the U.S. Ambassador to Sweden Mark Brzezinski, former Swedish Ambassador to the U.S. Jonas Hafstrom, Volvo Cars CEO Hakan Samuelsson and GoteborgsPosten journalist Britt-Marie Mattsson. From Texas, SACC-Texas President Stefan Lloyd and Michael (Mike) Skelton of the Richardson Chamber of Commerce near Dallas, attended.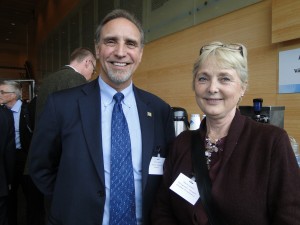 Mike Skelton is Director of the Richardson Mayor's Office of International Business and works to recruit more foreign direct investment into Richardson, to help Richardson companies do more exporting into overseas markets, and to open new international markets and opportunities for Richardson businesses and innovators.
During the first part of the day, designated to discussions on "U.S. market access for Swedish entrepreneurs by U.S. entrepreneurs", Stefan acted as moderator during a workshop panel about fundraising. Stefan himself started and is currently running his own business in Dallas, so he has experienced firsthand what it is like coming over from Sweden and starting a business in the U.S.
-How hard do you think it is to come over from Sweden and start a business here?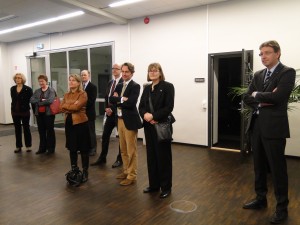 -Very hard if you don't have a good network to help you. It's difficult, regardless of what industry you are in, if you don't have a network. That's where SACC tries to help and to be that network, making it easier to start a business in the U.S.
-Is there anything that's easier about starting a business here versus in Sweden?
-There are lower costs and less regulatory requirements than in Sweden.
-Is there anything that's harder?
-Not in Texas but I don't know the legislation well in other States.
-What should those wanting to move to the U.S. and start a business do?
-If you have plans to at some point establish yourself in the U.S., regardless of whether you need financing or not, first contact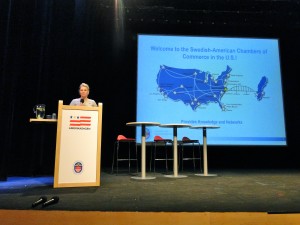 SACC for guidance and help to reach the right networks and to get started on the process. In order to complete your fundraising in the U.S., you need to start work in Sweden at least a year in advance. Preferably you should have the American market in mind when you're creating your product. We have a lot of SACC members who work with exactly these questions, so SACC is a great network for these kinds of issues. If you know where you want to start your business, you can contact the regional SACC Chamber directly but otherwise SACC-USA works as a hub and will be able to connect you with relevant regional SACC Chambers.
SACC-USA Chair Matias Bonnier said in an interview with Svenska Dagbladet that "Perhaps all Swedes don't think about the fact that the U.S. really is 50 countries with different rules and regulations – and even cultures in the different states".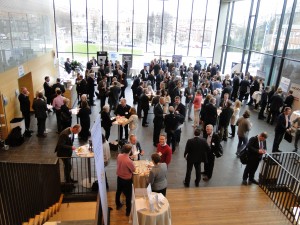 -Did you notice this difference Bonnier spoke of during Amerikadagen?
-What he said makes a lot of sense. There wasn't a lot of focus on cultural differences [during Amerikadagen] although it did come up in the fundraising panel where depending on if you're talking to venture capital firms in New York, Texas or the west coast there will be differences on how they deal with the process. Both in the entrepreneur panels and in the corporate panel it came up several times that the U.S.' 50 states are like different countries with different laws, business styles and so on. There perhaps isn't a huge difference state-to-state but regionally speaking yes.
The second part of Amerikadagen was on the topic "U.S. perspectives and trends with impact on Swedish related business" and focused largely on the Transatlantic Trade and Investment Partnership (TTIP).
-What are your thoughts on TTIP?
-The more the better! TTIP is meant to increase trade and to make it cheaper and simpler to trade between the U.S. and the EU, so any decision made about a partnership will be good. TTIP was discussed the whole afternoon, we heard from CEOs of
large companies speaking about how important the U.S.-Sweden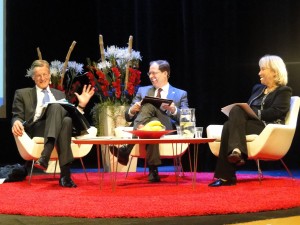 connection is for Swedish industry. TTIP will create jobs and is generally a positive thing.
-What did you take away from Amerikadagen?
-The main thing was the very strong attendance, over 300 people I think. The event brought up good topics, there were interesting Q&A session and a lot of business contacts were made. There is a strong Swedish interest in the U.S. and Swedes are becoming more and more aware of Texas as an area of the U.S. very attractive for business.
You can read the U.S. Ambassador to Sweden Mark Brzezinski's thoughts about Amerikadagen here.
Sophie Zatterstrom, SACC-Texas