The Houston Chapter of Swedish Chamber Of Commerce in Texas invited to a Wine Reception featuring Jan-Åke Gustafsson, Director for the Center for Nuclear Receptors and Cell Signaling at University of Houston.
Jan-Åke Gustafsson, a renowned Swedish scientist recruited to University of Houston and a member of both the National Academy of Sciences and the Nobel Assembly, shared interesting insights into the world of a scientist.
Mention Jan-Åke Gustafsson, and anyone interested in medical science would probably know who you are talking about. His research is mainly focused on nuclear receptors, which together with proteins regulate the expression of the genes. Research in this field could in the long run lead to development of new treatments for cancer and diabetes.
Before arriving in Texas and the University of Houston, Gustafsson was a researcher at Karolinska Institutet in Stockholm, where he among other things worked to establish and brand the South Karolinska Campus South in Huddinge. Now, reaching the age of retirement, he experienced what many older researchers do in Sweden: you can no longer get funding from the government for your research. This opened the door for other international universities who approached him with offers.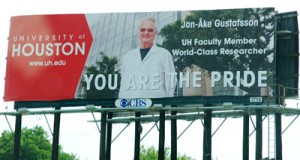 Jan-Åke Gustafsson decided in favor of University of Houston. When joining them in January 2009 they advertised his arrival at their campus with big road signs in Houston saying "You are the Pride".
Speaking of pride: generally, a life scientist would be proud writing 100 scientific papers in his or her career, Gustafsson however has around 1 300 papers.
– President Rhenu Khator has a vision to take University of Houston to a top tier university, which is something I feel at home with from the time when we established Karolinska Campus South. At the same time I feel grateful that University of Houston hired a guy in Sweden close to his retirement, which in Sweden is almost the same as decapitation, explains Gustafsson.
Today, Gustafsson spends 80 percent of his time here in Houston and 20 percent at Karolinska Institutet.
The importance of interpreting dots
Science sometimes demands patience of those involved.
It took four years of laboratory testing and analyzing, but when Jan-Åke Gustafsson and his colleges saw the lines between the dots on that picture in front of him, he knew they were on to something.
What he was looking at was the proof that estrogen receptors can bind to the genes in the chromosomal DNA, which means that the receptors can influence the genes in different ways. The discovery would change the scientific field, opening a more mechanistic approach on how to study hormones. Before that, the molecular mechanisms for hormone activity were not known. These small dots and lines showed that the receptors could affect our DNA and the production of the RNA.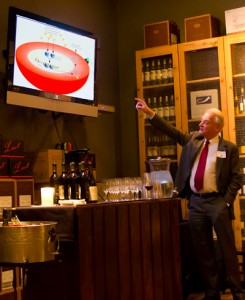 Perhaps his biggest scientific discovery – so far, one should add – happened in the mid-90's. Up until 1995 the scientists knew of only one estrogen receptor. But when Gustafsson and his team conducted research that involved the prostate, they actually found something one would perhaps not expect to find in a prostate: a new estrogen receptor that was named estrogen receptor beta. A moment of serendipity celebrated with champagne, but also a story that shows how important it is for a scientist to be open for unexpected results.
-In science, you cannot have everything programmatic; there must be free science that can lead to something unexpected. And that in itself is a celebration. I know that not all people can have such luck but it is easy to become a victim of science when you find something completely unknown.
The discovery was important since the well-known alfa-receptor is the beta-receptor's antagonist, the alfa being the 'bad guy' and the beta the 'hero'. When women take hormone replacement therapy to relieve symptoms of the menopause, estrogen triggers both the good and the bad estrogen receptors, leading to increased risks for breast and uterus cancer. Interestingly, Jan-Åke Gustafsson has shown in animal studies that tumors are smaller when the estrogen receptor beta is selectively targeted compared to the control group.
– It seems like breast cancer, colon cancer and prostate cancer are related, and that drugs that activates the good estrogen receptors could benefit the patient. We are now trying to understand this enormous signaling network in the cell, Gustafsson said.
Gustafsson also talked about another area of his research that targets obesity. We all know that having a sedentary lifestyle with a lot of fast-food and lack of exercise can easily lead to obesity. However, there are those researchers that suggest that there could be other environmental causes that mess up our hormone systems, so called obesogenes. The theory is that there are chemical compounds that we use without realizing how dangerous they are to our hormonal system. Gustafsson and his group demonstrated that TBBPA, a common flame retardant, can cause obesity in zebra fish. The more flame retardant that was administered to the fish, the fatter the fish became.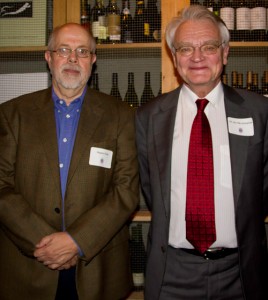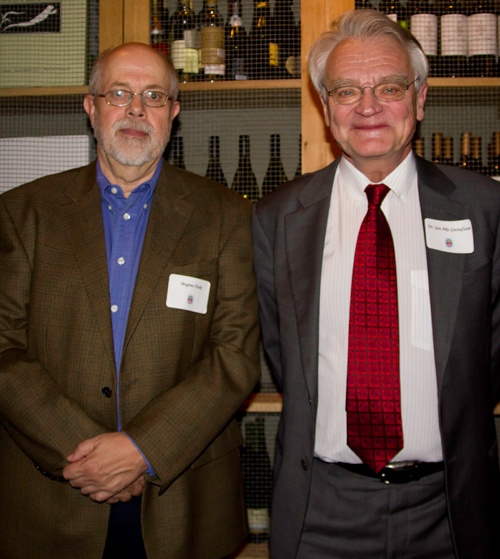 – We try to identify obesogenes in the environment and if we succeed we could help to remove these obesity causing agents.
Voices on Jan-Åke Gustafsson:
"We are delighted to have Dr. Gustafsson join our faculty as a key leader in our biomedical initiative. He will play an important role in our quest for flagship university status."
Renu Khator, president of UH and the chancellor of the UH System
"The recruitment of an outstanding scientist such as Dr. Gustafsson to the University of Houston represents a landmark achievement in biologic development at that campus. He will bring an internationally recognized team to study estrogen action in normal and diseased tissues that will have a wide impact across other university departments."
Bert O'Malley, professor at Baylor College of Medicine
"The biomedical industry is one of the largest in our state, and has the potential to greatly improve many Texans' quality of life with continued research and expansion. This world-class research team will lead the charge in developing treatments for diseases that plague our citizens and enhance the University of Houston's presence as a biomedical research institution."
Gov. Rick Perry
Tove Smeds, SACC-Texas